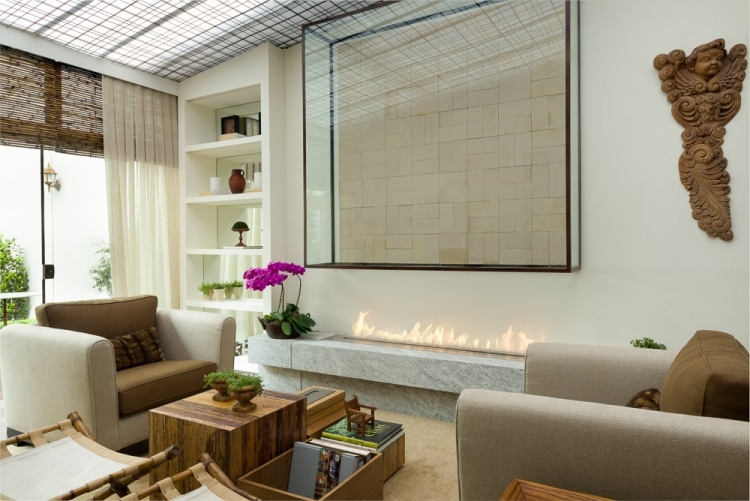 After many years working with Architecture and Interior Design, Rossana Nogueira and Marcelo Kzan brought to Brazil an innovative concept in fireplaces from Europe in 2009.
Portable and Ecological Fireplaces
Originally, they just wanted to meet their customers' demands, but the market was delighted by product. They then decided to embrace and develop this new concept and work exclusively with Ecological Fireplaces.
A great challenge
This is how ECOFIREPLACES was born.
Pioneers of the system in Brazil and South America, and constantly searching for solutions for demanding customers, they introduced this concept with the commitment to offering the best product .They created an information plan such as handling videos, procedure manuals, templates and technical information regarding adjustments, materials, and finishing their know-how acquired over years of work with architecture and interior design.
ECOFIREPLACES has become an icon in the Brazilian and international markets as a reference in quality, heating, design and respect for customers.
The Exclusive Design of the products, developed by the businesspersons, coupled with the quality of products and services, makes ECOFIREPLACES a modern and revolutionary company approved by the best professionals, companies in the real estate sector, and special demanding customers.
Sustainability
The Concept of the product uses cereal-based ethanol, a renewable fuel with very low carbon emission, without the use of electricity, burning of fossil fuel or burning of wood, generating excellent thermal comfort without any damage to nature.
We also reuse discarded materials and turn them into UNIQUE AND EXCLUSIVE PIECES.
We recycle wood remaining from joinery work to manufacture boxes to fit small burners to be transported easily, as is the case of ECO 16 that can be made of MDF or Demolition Wood.
And from the sleepers of the old railways, like ECO 18, ECO 24, ECO 23, and ECO 53. Or even wooden crossbars (old lamp-posts latches) from which ECO11 is made.
We also reuse steel scraps discarded in planting fields, as is the case of ECO 38 and ECO 37 made from plow blades.
Just like a simple selective collection, we receive containers of Biofluido® and cardboard boxes and redirect them to recycling centers.
Hence, we believe we are giving our small share to improve our environment.
Social Actions
ECOFIREPLACES provides its employees with continuous training on technical issues, keeping them up to date with ongoing market innovations. Annually they receive a certification from the fire brigade for specific training, making them specialists in handling with and protecting from fire.